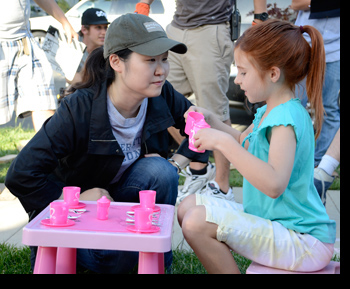 Christine is a Korean filmmaker who writes and directs character-driven dramas that focus on family or relationships. Her films have been distributed to iTunes, aired on PBS, and garnered multiple awards including Cine Golden Eagle Award.
Born in a conservative family as a politician's daughter, Christine moved to the US by herself at the age of 16 to pursue filmmaking. While studying at USC, she directed a commercial spot, MOVIE DATE, as one of the ten national finalists for the Coca-Cola Refreshing Filmmaker's Award Contest. JANIE, her coming-of-age drama about a 9-year-old girl and her little brother, screened at various festivals such as LA Shorts Fest, Heartland Film Festival, and Los Angeles Asian Pacific Film Festival.
With MY FAKE HUSBAND, a feature romantic comedy script about a Korean woman returning home to face her estranged family, Christine was selected to participate in the Korean Film Council's Filmmakers Development Lab and the New Writers Fellowship program by CAPE (Coalition of Asian Pacifics in Entertainment) and Fox.
Christine's next film, ENCOUNTER, is about a woman encountering someone resembling her mother who abandoned her 20 years ago. It garnered Platinum Remi Award from Worldfest Houston and was distributed by Shorts International. TRANSCENDENCE, Christine's fantasy drama pilot script about a 911 call operator, made the semifinalist for the Diverse Voices contest by WeScreenplay.
Her latest project, FORGET ME NOT, is a story about a precocious 7-year-old Korean immigrant girl grappling with her mother's Early-Onset Alzheimer's Disease. The script is the category winner of the 2022 Final Draft Big Break Screenwriting Contest. It also placed among the top 15% in the Academy Nicholl competition and has advanced to the second round of the Sundance Development Track program.
Christine is a Film Independent Fellow and Caucus Foundation Grant recipient, and she was a finalist for the Disney/ABC Directing Program. She currently serves on the board of Alliance of Women Directors.